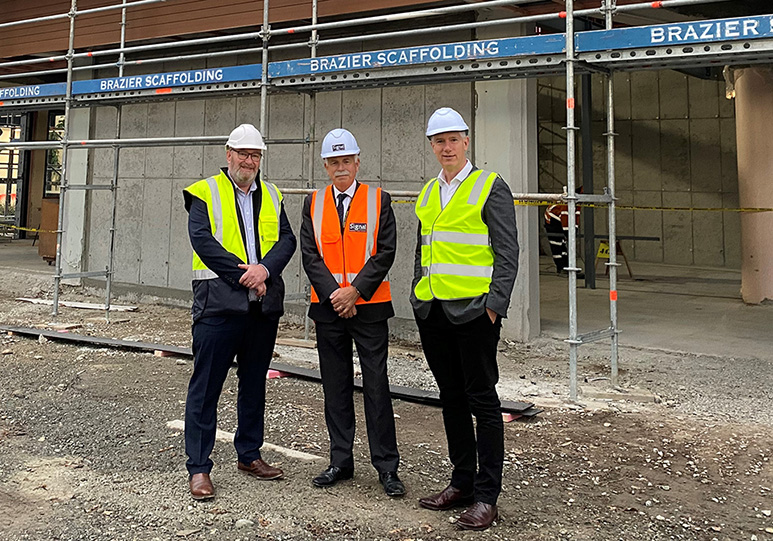 $1m support for Gore's new library from Mataura Valley Milk and The a2 Milk Company
Mataura Valley Milk's $1 million contribution to the Gore District Library redevelopment was marked by a much-delayed but welcome meeting at the site in June.
The Mayor of Gore, Tracy Hicks, met with MVM's Chief Executive Officer Bernard May and the Managing Director and Chief Executive Officer of The a2 Milk Company, David Bortolussi, to catch up with progress at the site.
Mayor Hicks acknowledged the importance new industry was playing in the future of the Gore District. "MVM is committing almost $1million to a new development that will enlighten generations to come," he said.
Mr Hicks said MVM had cemented itself as a significant contributor to the local economy. "A fair amount of effort went into securing the new plant for the District, and it is certainly starting to prove its worth."
Mr May said: "It was a pleasure for us to meet with the Mayor at the library. Our financial support for the library project is an important aspect of MVM's overall connection with the community, which starts as an employer in Gore and extends to include support for a range of charitable and other community programmes."
The meeting coincided with Mr Bortolussi's first visit to MVM since The a2 Milk Company acquired a 75 percent interest last year. The remaining 25 percent is owned by China Animal Husbandry Group, which backed the formation of MVM and the establishment of the plant from 2016 onwards.
"I am delighted to be visiting MVM and its community at last, after Covid travel restrictions prevented it for so long," Mr Bortolussi said. "My visit is about The a2 Milk Company's support for MVM and its future as an important part of the group. MVM is a world-class manufacturing facility for dairy nutritional products – one of the most technically advanced nutritional sites in the world.
"I also recognise that MVM is part of the fabric of Gore and Southland, and The a2 Milk Company will continue to stand behind the role MVM plays as a contributor to the growth and development of the region."